Anyone have that one drawer, you know the drawer I am talking about.  When you open it a huge gasp followed by aggressively shutting the drawer to then slowly open it again to see if anything changes, which it hasn't so you close the drawer again and run off to brunch.  More specifically the "jewelry" junk drawer.
It is a mix of earrings who have lost their partners, necklaces that are so tangled they look like Medusa's hair, and then you have the abundance of neon colored 80's looking bangles that you sweaaaaaar you are going to wear to the next 80's themed party you are going to be invited to…and when will that happen?
The way that I try and keep all of my jewels organized is that I like to keep them in a place that I can readily have at hand every piece of jewelry I own and it can nice and neatly fit on a bathroom counter. No need to sift through 3 randomn drawers, a medicine cabinet, or in a nightstand drawer to find that perfect accessory to match your outfit for the night.  So I have picked for you guys my top 3 recommendations for jewelry organizers that are super functional and stylish! Click the photo to shop each of them!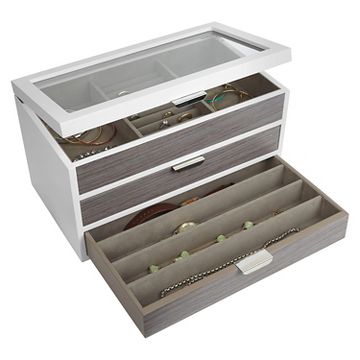 2. The Container Store- White Supersize Stackers Premium Stackable Jewelry Box
3. Bed, Bath, & Beyond- Mele & Co. Wooden Jewelry Box $70.00